Your Journey to Clear Vision Starts Here With the Best Glaucoma Specialists in Kanpur
Millions of individuals all over the world are affected by the complicated eye illness- Glaucoma. It is often referred to as the "silent thief of sight" because it typically develops gradually and without noticeable symptoms in its early stages. If left untreated, glaucoma can lead to irreversible vision loss.
The JLR Eye Hospital is the best glaucoma hospital in Kanpur. We are committed to providing you with accurate diagnoses and personalized treatment plans tailored to your specific needs. You will receive the best eye glaucoma treatment in Kanpur here. Our glaucoma specialists in Kanpur have extensive experience in diagnosing glaucoma and doing its critical surgeries, utilizing state-of-the-art technology and the latest advancements in the field.
Advanced Diagnostics for Glaucoma
Accurate diagnosis is crucial to managing glaucoma effectively. At JLR Eye Hospital, we employ cutting-edge diagnostic tools and technologies to evaluate your eye health comprehensively. Our specialists utilize state-of-the-art equipment, including advanced imaging techniques and visual field testing, to assess your illnesses and treat them.
Personalized Glaucoma Treatment Plans in Kanpur
Patient education is very important to us, so we'll help you through the process to make sure you understand your problem and all of the available treatment options. Our glaucoma specialists will develop a specialised treatment plan for your medication or glaucoma surgery, taking into account the type and extent of your illness.
Our Glaucoma Specialists in Kanpur
Dr. Aparna Mahendru Sr. Consultant, Cataract, Glaucoma and LASIK (MBBS, MS)
Dr. Aparna Mahendru, a distinguished and revered ophthalmologist, stands as a beacon of excellence in the field of glaucoma and cataract treatment. With the prestigious distinction of earning her medical degree from G.S.V.M. Medical College in 1994 and a master's degree from K.G. Medical College in Lucknow in 1999, she embarked on a relentless pursuit of knowledge. Her relentless dedication led her to acquire advanced training in PHACO surgery at Dr. Aggarwal's Eye Hospital in Chennai in June 2002, followed by further expertise in PHACO surgery and SICS at the esteemed Arasan's Eye Hospital in October 2005. Since joining the esteemed JLR, she has supervised countless transformative surgeries, embodying a magnificent legacy of unwavering commitment and surgical finesse, especially in glaucoma treatment.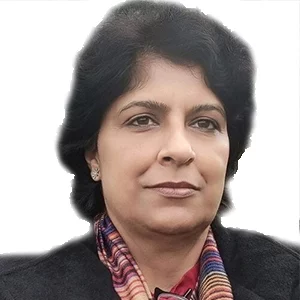 Dr R.K. Singh CMO & Sr. Consultant, Cataract, Glaucoma and Pediatric (MBBS, MS)
Dr. R.K. Singh is a distinguished and esteemed senior eye surgeon at JLR Eye Hospital, having unparalleled expertise in the field of glaucoma and cataract treatment. Having received his medical education at the esteemed G.S.V.M. Medical College and completing his MS degree there, he embarked on a journey of excellence. He is also well trained in PHACO and Cataract lens surgery. Dr. Singh's residency at the renowned Dr. Ram Manohar Lohia Hospital in New Delhi from 1993 to 1995 further solidified his skills. With a distinguished career spanning more than two decades, he has skillfully restored the sight of thousands of patients and opened their eyes to the incredible beauty of the world, positively transforming their lives in the process.
Effective Treatments and Glaucoma Surgery in Kanpur
Medication
In many cases, glaucoma can be treated with prescription eye drops or oral medications. These medications work by reducing intraocular pressure, the primary risk factor for glaucoma. Our specialists will carefully assess your eye condition and perform successful surgeries. You can be stress free about your glaucoma treatment as you can have a successful and inexpensive glaucoma operation in Kanpur in JLR.
Laser Therapy
Laser eye surgery for glaucoma is effective and commonly used. You don't have to be concerned about how much laser treatment for glaucoma costs in Kanpur, as all laser procedures are available at affordable prices in JLR. Its types include:
Selective Laser Trabeculoplasty (SLT)
SLT uses low-energy laser pulses to target and stimulate specific cells in the eye's drainage system, enhancing fluid outflow and lowering intraocular pressure.
Laser Peripheral Iridotomy (LPI):
Laser Peripheral Iridotomy (LPI): LPI involves creating a small hole in the iris, allowing better fluid drainage and reducing pressure. This procedure is particularly effective for certain types of glaucoma, such as angle-closure glaucoma.
Cyclophotocoagulation
This laser treatment for glaucoma targets the ciliary body, reducing the production of aqueous humor and lowering intraocular pressure.
Minimally Invasive Glaucoma Surgery (MIGS)
MIGS procedures are advanced surgical techniques designed to lower intraocular pressure by improving the eye's drainage system. These procedures are typically less invasive than traditional glaucoma surgeries and involve a quicker recovery time. Your glaucoma specialist will determine if you are a suitable candidate for MIGS based on your specific condition.
Trabeculectomy
Trabeculectomy is a traditional surgical procedure used to create a new drainage channel for excess fluid in the eye. During this glaucoma surgery, a tiny flap is created to allow fluid to drain out, reducing intraocular pressure. Trabeculectomy is often recommended when other treatments have not effectively controlled glaucoma.
Glaucoma Drainage Devices
In some cases, glaucoma drainage devices may be recommended. These small implants help regulate intraocular pressure by creating a pathway for excess fluid to drain from the eye. Our skilled surgeons have vast experience in the successful placement and management of these devices.
Experience Exceptional Glaucoma Care at JLR Eye Hospital, Kanpur
As one of the best glaucoma hospitals in Kanpur, we provide a wide variety of procedures and treatments that are tailored to your specific requirements along with affordable fees for laser treatment for glaucoma in Kanpur. Our chief expert leads the team of highly skilled glaucoma specialists in Kanpur who are committed to offering the best possible care while implementing the latest techniques and advancements in the industry. Schedule an appointment with us right away, and we will work together to preserve your vision. Your eye health is our primary focus at JLR Eye Hospital.
Faq
Glaucoma is a progressive eye condition characterized by increased intraocular pressure, leading to optic nerve damage and potential vision loss. Glaucoma can cause irreversible blindness hence it is essential to consult a glaucoma specialist in Kanpur to receive an expert diagnosis, personalized treatment plans, and ongoing monitoring to preserve your vision.
Early signs of glaucoma include loss of peripheral vision, blurred vision, eye pain, and halos around lights. Regular eye exams are essential for detecting glaucoma and provide timely treatment.
JLR Eye Hospital provides personalized treatment plans and regular monitoring to manage glaucoma, aiming to maintain optimal eye health along with affordable laser eye surgery for glaucoma in Kanpur.
JLR
Hi there

How can I help you?
Please fill your phone number
Close
Chat with Us
Call Us Now